Curd Incubation Machine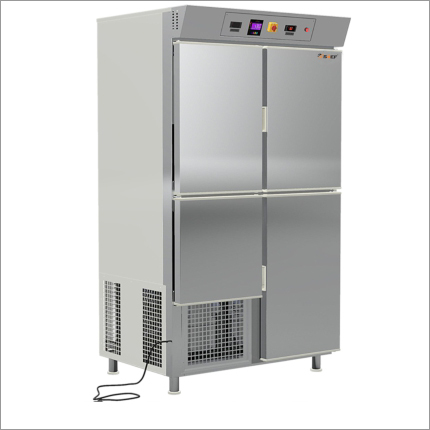 Curd Incubation Machine
Product Description
Available in single phase/three phase power supplying arrangement, this Curd Incubation machine is accessible in fully insulated design. This mild steel made dairy equipment features food grade stainless steel made interior. Contact components of this incubator are made of 304 grade stainless steel to ensure its hygienic operating mode. It has digital temperature displaying arrangement with digital controller facility. This dairy system uses finest grade air blower for maintaining homogeneity of heat transfer process. Provided Curd Incubation Machine is user friendly, has low production cost and has been designed for constant operation.

We offer you Incubation room with hot unit which can maintain 42oC with 1oC deviation for our Blast Chiller is useful to chill the culture up to 20oC within 1 hour
At last, for Stage you can use our regular cold room.
If you will prepare curd according to above procedure, you will get curd with same taste & quality in every season which can maintain its quality for long time and you can prepare delicious Indian Items like Lassi, Raita, Shrikhand, Kari etc
Contact Us
A/P Nave Pargaon, Tal. Hatkanangle, Dist-Kolhapur,, Kolhapur, Maharashtra, 416113, India
Phone :+918071859134885